Alex La Guma's Work: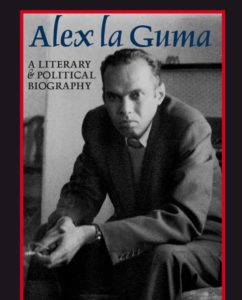 The non-white South African writers of the 1950s and 1960s were in a peculiar situation legally designated inferior beings, they lived in an oppressive police state that their works were committed to exposing abroad. Working within a repressive society, the writers had to establish to the outside world the value of their very existence-and this in a country that  was  culturally  as  well  as  politically  dominated  by  white values.
South African fiction of the period does not merely reflect the nature of the society, but inevitably criticized it. Even the least politically didactic novel cannot avoid mentioning the social conditions under which non white have lived in South Africa for most of the twentieth century. Merely to described the daily existence of the nonwhite communities of South Africa is to criticize implicitly the policies of the former administrations, which dictated that human beings should live under these despicable conditions, and such a description stands as an indictment of the sensibilities of the white South Africans who until the 1990s lived within and give unflinching support to this system.
For Alex La Guma, born into a working-class "coloured" that is, of mixed-race original family in the Cape Province on 20 February 1925, Fiction was a channel for his criticisms of away of life he found unbearable under the influence of his parents, La Guma grew up conscious of the economic as well as political reasons for the development on increasingly separatist policies by the South African government, and of the role of the left-wing labour movement in fighting racist practices.
South African critics hare often complained about the failure of their writers to respond meaningfully to the complex dilemmas of their society. The charge has been made frequently that most South African writers adopt conventional plots which either illustrate the arbitrary nature of the police system and usually end in petty gestures of defiance in the name of the universal brotherhood of man or some other admirable moral sentiment. While African literature suffers from the return again and again to the same old theme of apartheid, we should acknowledge the existence of a few writers who have heated this theme with sufficient originality to make a universally valid statement about the human condition. According to Arthir Gakwandi:
Few works have treated this theme with the same freshness which we  find in Alex La Guma's A Walk in the Night. What distinguishes this short novel is that while avoiding being a sermon of despair it also avoids advocating sentimental solution to the problems that it portrays. Without pathos, it creates a powerful impression of that rhythm of violence which characterizes South African Life.
Critical Analysis of Alex La Guma's Works
A Walk in the Night, describe with lavish atmospheric details the event of one night in the lives of four men who live in a decaying slum area, District six in Cape Town. Each think of himself as an individual, but La Guma shows that together they represent the life of a whole district. The first, Michael Adonis loses his job, accidentally murders an old man in a fit of drunken rage, and decides to join a gang of thieves. Willie boy, a "skolly" (a South African term for a young hoodlum) who pride himself on never having worked in his life, is mistakenly identified as the murderer of the Oldman. When he venture into the street after a brawl in an illegal bar, he is spotted by the police, chased, shot, and left to die in the back of the police wagon. Meanwhile, in the same block of flats were the old man was murdered, Franky Lorenzo leans that his wife is going to have a sixth child. His dismay is overcome by his love for his wife and his bitter recognition that children are the riches of the poor.
The fourth figure, young Joe, who lives off what he can find in the sea around the docks, repays Michael casual handout with real friendship. When he realizes that Michael is about to accept an offer to join the gang in a planned robbery, Joe pleads with him to change his mind. When he fails, Joe pleads with him to change his mind. When he fails, Joe runs after Michael in the street to renew his plea: "please, Mike', Joe said. He looked as if he was going to cry. I'm your pal. A man's got a right to look after another man, Jesus, isn't we all people?"
The individual has rights, and these are not just the right to earn a living and the right to walk the streets without harassment, or the marital right Franky Lorenzo shouts about when he discovers he has the responsibility of another mouth to feed. The individual also has the right to assume responsibility for another fellow human beings.
Police Constable Raalt, who follows Willieboy across the roofs and shoots him in cold blood for the satisfaction of his hunt, is the story's prime example of the individual who has reneged on not only his  ordinary human responsibilities, but also, as his prime fellow officer notes, his responsibility to uphold the public image of the whites, Raalt is a parasite on the community that he is suppose to protect, as his extortion of bribes demonstrates. Yet it is not always clear where one's responsibility lies: the person who identifies Willieboy is the murderer claims to the acting in good faith, yet he acts alone and is reproached by his neighbours for cooperating with the police; even the police officer sneers act him. According to Arthir Gakwandi:
Police constable Raalt is perhaps the most sharply drawn figure in the novel. He is the incarnation of the fears and complexes of the white man in South African. He is a dehumanized instrument of supremacy and terror.
The major walkers in the night are Michael Adonis, Raalt, the white constable who is on patrol duty in Cape Town's District Six and Willieboy, a habitual loiterer and petty criminal who gets killed in the process of hunting for Doughty's murderer. In the process of walking in the night, the lives of these individuals cross each other during the night they meet a wide range of District dwellers. Such as the rustics, bar- tenders, drunkards, loungers, sailors and laborers are in some ways victims of the foul crimes' of their society.
In the words of Doughty, the old drunkard and ex-theatre practitioner, who seems to be speaking for numerous members of his society when he quotes the words from Hamlet: Alex La Guma's Work
I am thy fathers spirit, doomed for a certain time to walk the night…and …and for the day confined to fast in fires, till the foul crimes done in my days of natures…nature are burnt and purged away.
This retired actor, Doherty, who has given so much for the love of his country is gradually dying of alcoholism, diabetes and old age, before he is finally given a death blow by Michael Adonis, has once been a famous man. The description of his room gives a bizarre picture:
The room was hot and airless as a newly opened tomb, and there was an old iron bed against one wall, covered with unwashed bedding, and next to is a backless chair that served as a table on which stood a chipped ashtray full of cigarette butts and burnt matches, and a thick tumbler, sticky with the dregs of heavy red wine. A battered cupboard stood in a corner with cracked, fly spotted mirror over it, and a small stack of dog-eared books gathering dust. Alex La Guma's Work
We Believe This Article Was Helpful, Don't Hesitate To Share This Information With Your Friends On
Facebook, Twitter, Whatsapp and Google plus.
---
Disclaimer:
The contents on this site is provided as an information guide only. They are intended to enhance public access to information about Education and other Endeavors. While every effort is made in preparing good information, no responsibility is accepted by or on behalf of this site for any errors, omissions or misleading statements. Although every effort is made to ensure the reliability of this site.
---
---
Copyright:
Contents on this website may not be republished, reproduced, redistributed either in whole or in part without due permission or acknowledgement. All contents are protected by DMCA.
---
The content on this site is posted with good intentions & information purposes. If you own this content & believe your copyright was violated or infringed, make sure you contact us via This Means to file a complaint & actions will be taken immediately.
---