Nigerian Pilot Salary and Ranks varies from one position to another but a person working as a Pilot in Nigeria typically do not earn less than 200,000 NGN per month.  Some pilot job in Nigeria salaries range from 290,000 NGN (lowest) to 877,000  or more NGN (highest).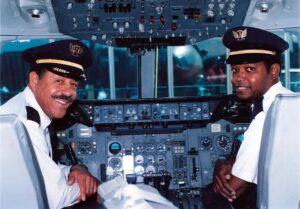 This is the average monthly salary including housing, transport, and other benefits.
Flying an aircraft is one of the most delicate jobs to do. It is one of the reasons why it reflects in their bulky pay and bonuses.
The profession not only commands respect roundabout, its delicacy and sometimes complexity makes it a highly selective profession that requires lots of training.
If you want to become a pilot, then you must be ready to work hard and spend well. It is a labor that will surely bring multiple profits if successful.
Talking about Nigerian Pilot Salary and Ranks generally, an entry-level pilot earns a minimum of N200, 000 regardless of his or her position, grade or level of experience.
It should be noted that fixed-wing pilots earn less than rotary pilots. Most people start as fixed-wing pilots.
After some years of experience, they become captains and later convert to rotary pilots with much higher pay.
Most aircraft companies pay in US Dollars. Pilots in oil and gas companies like Shell and Chevron earn about $10, 000 – $25, 000 per month .
Air pilots that work with oil and gas companies significantly earn more than their counterpart in airway companies. The take-home of a pilot usually depends on his or her year of experience, type ratings, rank, flying hours and other basic factors.  
Second officers earn between N1m and N1.8m, while a new-entry Captain earns between N2.6m and N3.3m monthly.
A first officer pilot in Nigeria earns between N800,000 and N3,000,000 depending on the airline, flying hours, and work conditions. This is the first stage after the type rating.
Nigerian Pilot Salary and Ranks.
Nigerian Pilot Salary and Ranks can be determine by their position below just like every other organization would have;
Junior flight officer
Flight officer
First officer
Senior first Officer
Captain
Senior captain
Commander
Senior commander

Commercial Pilot License
1. Commercial Pilot License Salary Structure:
 An entry-level pilot with a Commercial Pilot License from the Nigerian Civil Aviation Authority earns between N350,000 and N1,000,000  depending on the airline, job description and agreement.
Getting a job without type rating can sometimes be challenging.
2. New  Nigerian Pilot

Salary Structure

.
Pilots who are novices with no professional experience flying aircraft and recently passed out of aviation school has to first acquire an NCAA which is basically a license to fly aircraft called the CPL (Commercial Pilot License) but the novice pilot is not ranked yet since he or she has no work experience.
Most airlines are unwilling to employ pilots with no professional experience so the best home is being an onboard assistant of some sort learning the ropes until the experience is gained.
The average salary for pilots without experience is about #200,000 though some commercial airlines pay up to #500,000. First, the airline would have to sponsor the novice pilot to undergo further training and certification in what is called the "Type Rating Courses". They'd first be rated as Junior Flight Officer and Flight Officers next.
3. Nigerian First Officer and Senior Officers Pilot

Salary  
As I stated above, Nigerian pilots are in ranks, and further up are the first officers – referred to as FO- and Senior first officers ( referred to as SFO). Of course, they have different Type Ratings which signifies their ratings which also is a major determinate of what they earn either as FO or SFO.
First Officers and Senior First Officers earn between #300,000 to #800,000 every month as their salary but as I have stated before, the exact salaries an FO and SFO depend on the airline company which employs them, the professional experience they have acquired and the number of hours they fly monthly which could be different from one another, hence the disparity in the salary.
4. Nigeria Flight Captain Salary

Salary Structure
The difference between what a flight captain and a new pilot with no professional experience earn are definitely obvious. As always what a Nigerian flight captain earns depends on the airline company which employs them, the number of hours they fly monthly, and tell professional experience and certification they have acquired.
For a Nigerian flight captain who flies locally, the salary could range from #500,000 to #1 million every month; while if the flight captain flies international routes the salary would range from #1 million to # 2 million every month.
What does it cost to study in an aviation school or study as a pilot in Nigeria?
While the salaries stated above might sound mouth-watering and very high compared to what people earn in other industries in Nigeria, it costs a lot to get fully trained to become a professional pilot.
College of Aviation Technology is the official aviation school in Nigeria where persons who are resident in the country and want to get fully trained as professional pilots have to get enrolled in.
That is not just all though as students would have to spend up to 7 million Naira or more on tuition fees and other necessary requirements to get trained and master how to handle and flying aircraft but the reward is certainly worth it because after the investment comes the prestige, high salary and other pecks which come with being a Nigerian pilot and there is an opportunity for career advancement which even means more to be earned over a long period of time.
5. The Authority Pilot Salary Structure: 
The Authority on the aircraft, usually called a captain earns between N1,500,000 and N5,000,000 per month, depending on the airline, total flying hours, and working conditions.
It should be noted that pilots for local airlines earn about N800,000 per month on average, while pilots that fly international airlines are paid N2 million monthly on average.
Types of Nigerian Pilot Job 
 Pilots are divided into two main categories:
The Fixed Wings:
A fixed-wing aircraft is one which generates lift caused by the forward airspeed movement of the vehicle and the shape of the wings.
The Rotary Wings:
A rotary-wing aircraft is a heavier-than-air machine that uses wings generated by the rotary wings that revolve around a mast
 The operation for pilots in each aircraft varies and so do their salaries.
---
Copyright:
Contents on this website may not be republished, reproduced, redistributed either in whole or in part without due permission or acknowledgement. All contents are protected by DMCA.
---
If you own this content & believe your copyright was violated or infringed, make sure you contact us via This Means to file a complaint & actions will be taken immediately.
---