It is essential you know if a company is fully registered on CAC before you go into any business deal or whether your proposed business name taken and in used or not.
Before now it is very strenuous to do because one would required to visit CAC office and do a number of paper works which is quite stressful.
The good news is that you can now run a check on CAC Registered Business  from the comfort of your home online through CAC website and this is exactly what I will table before you right now.
An online business search or verification  has been integrated in  Corporate Affairs Commission (CAC) Nigeria online portal, to enable anyone search CAC records for registered incorporated trustees, company or business names and those undergoing business registration.
If you want to register your company or business name with CAC Nigeria, you can also use the CAC public name search portal to check if your proposed business name has been registered by someone else or not.
About Corporate Affairs Commission (CAC):
The Corporate Affairs Commission (CAC) of Nigeria was established in 1990 vide Companies and Allied Matters Act no 1 (CAMA) 1990 as amended, now on Act cap C20 Laws of federation of Nigeria.
It is an autonomous body charged with the responsibility to regulate the formation and management of companies in Nigeria.
How To Know A Company Is Registered With CAC:
To search, visit CAC website, you will be presented with a form to type the name of the company you want to search for. Enter the company name without the "Limited" or "Ltd". Check the "I am not a robot" CAPTCHA and click submit.
You will be presented with the status of the company. The status include:
Registered company – with the RC No, registered address and date of registration.
Undergoing registration – the registration address with the displayed
Returns empty set if the company does not exist.
Step By Step To Check CAC Registered Business: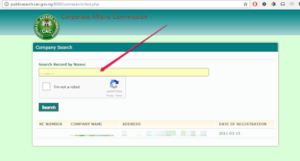 Go to CAC Official Website Or Click Here
Enter the name you want to search
Tick the "I'm not a robot" and solve the captcha if prompted
Click "Search"
Note: 
If a business is fully registered with CAC when you enter the company name in the CAC online search,  the search result will display the following:
Company registration number,
Company name,
Company address
Date of incorporation (registration).  
But if it is not a registered business name with CAC, the result of your search will be blank and no information will appears.
Are you looking for how to register your business  with CAC online? If your proposed business name has not been registered, you can proceed to your registration here – Registration Guidelines.