Ecobank Lions Den Business Show for Entrepreneurs 2021.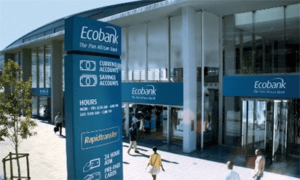 Lions' Den is a business reality show that gives budding entrepreneurs across Nigeria the chance to pitch their business to 5 successful Nigerian investors, referred to as Lions.
Pitch your business ideas to Nigerians ready to invest in your business on Lion's Den.
Have you got an idea to expand your business? Is the idea for the next big product or service to hit the Nigerian market or something akin to gold nesting in the back of your mind?
Well, now's the time to bring your idea(s) to life by pitching them to willing investors on Lion's Den; the world's biggest business reality TV show, happening in Nigeria.
Brought to you by Ultima Limited, the studio behind Who Wants To Be A Millionaire, Lion's Den is the perfect opportunity to get that much-needed capital to take your business to the next level.
These Lions are looking to give back to the society and help Nigerian fulfil their dreams and ambitions. As such, if they see the potential in the entrepreneurs' business, idea or products, they will invest in the business, in exchange for some equity in the business.
But even bigger than the cash investment, these Lions, who are business leaders in their own rights, will become the entrepreneurs business partners and help them take their businesses to greater heights.
Entrepreneurs pitch for investment in the Den from our Lions, five venture capitalists willing to invest their own money in exchange for equity.
Ecobank Lions Den Business Show for Entrepreneurs 2021
Rules of the Lions Den
Like any good institution, Lions' Den relies on rules. Without these, the Den would be a much more chaotic place.
Here are the basics – the eight golden rules that shape presentations and negotiations.
RULE 1: THE PITCH
Entrepreneurs must start the meeting by stating their name, the name of the business, the amount of money they are pitching for and the percentage of equity they are willing to give away in their company.
They must follow this with a pitch of up to three minutes. If it exceeds three minutes, the Dragons can stop entrepreneurs at any point but they cannot interrupt the initial pitch.
RULE 2: THE Q&A
Entrepreneurs DO NOT have to answer all the questions asked, but what they do or do not choose to answer may affect the outcome – for example, if they refuse to reveal net profits. They may ask the Lions any questions that help them determine whether they are suitable investors for their business.
It is important to note that anything that is discussed in the Den can be potentially broadcast.
RULE 3: OPTING 'OUT'
Entrepreneurs' time in the Den is over after all five Lions have declared themselves 'out'.
Also, once a Lion has declared his or herself 'out', they MUST NOT re-enter negotiation on the deal, and unless there is a compelling reason, they should remain quiet and leave the others to pursue the negotiations.
RULE 4: INVESTMENTS
The entrepreneur must secure at least the total amount they have asked for at the beginning of the pitch.
If a Lion offers less than the full amount, the entrepreneur must try and make up the total by securing an investment from one or more of the remaining Lions.
Each entrepreneur must leave the Den with at least the full amount they asked for or they exit empty-handed.
The entrepreneur can negotiate more money than was originally requested, as this is usually to redress the sticking point of an entrepreneur giving up more equity than was initially offered.
RULE 5: MULTI-LION INVESTMENTS
Each Lion is working as an individual investor. The Lions can invest as little or as much of their own money as they want. It is up to the entrepreneur to persuade them to match the required investment or pledge to invest a portion thereof.
As above, it is acceptable for the entrepreneur to seek investment from more than one investor in order to make up the total amount required. A full investment may involve between one and five parties.
RULE 6: REFUSING INVESTMENT
An entrepreneur can refuse investment from a Lion if they think they are an unsuitable investor or the deal on the table isn't right for them.
RULE 7: THE DEAL
The deal agreed on the day is an unwritten agreement that depends on due diligence checks, and relies on the intergrity of both investor and entrepreneur to freely enter the transaction and be fully committed to seeing it through.
However, the deal is solely between the Lion and the entrepreneur and after additional meetings, if an agreement cannot be reached, neither party is legally obliged to complete the deal.
Ultima Studios remains impartial, as they cannot be involved in the business contract between the two sides.
RULE 8: THE ADVOCATE
Entrepreneurs are permitted to have an advocate on standby in the Den, to help them answer some of the Lions' questions. This advocate must usually be someone who is directly involved in the business. They can ask the Lions to meet their advocate at any point after the three-minute pitch.
Any advocate attending the Den must be pre-approved, screen-tested and have gone through the same personal checks as the entrepreneurs.
Terms and Conditions
To be considered all candidates need to submit an application form and the application is then subject to casting criteria.
Due to the high number of applicants, only the applicants shortlisted will be contacted. However, we do consider all applications carefully.
Once shortlisted for consideration the organisers will do due diligence and background check on applicants, but ultimately the final selection for participation will be decided on a number of factors and the Producers decision is final.
Please note: Your information will be treated in the strictest confidence by Ultima and individual data will not be provided to any other party. All information provided is subject to and will be treated in accordance with privacy and data protection laws, including The Nigerian Data protection Regulation 2019, and will not be used for any purpose other than assessing applicants to take part in the programme.
We regret that Ultima members of staff and their immediate families are not eligible to apply.
All applicants must be 18 years and above to be eligible.
All Applicants must have an existing ECOBANK account or be ready to operate one.
Investment in the business is solely at the discretion of the lions'
Ultima shall not be liable for non-performance of any Lion.
A Lion shall be at liberty to pull out of any investment where he/she feels uncomfortable with.
Your personal data will be used by Ultima in accordance with privacy and data protection laws, including The Nigeria Data Protection Regulation 2019.
All personal data sent by you will be used for the purposes of selecting contestants for Lions' Den, and the production and distribution of Lions' Den, and will be retained by Ultima for the period necessary for it to use the data.
In the event of you being selected to take part in Lions' Den and being offered investment by a "Lion", Ultima will share your personal data with the investing "Lion" for the purposes of undertaking their own due diligence.
We Believe This Article Was Helpful, Don't Hesitate To Share This Information With Your Friends On
Facebook, Twitter, Whatsapp and Google plus.
---
Disclaimer:
The contents on this site is provided as an information guide only. They are intended to enhance public access to information about Education and other Endeavors. While every effort is made in preparing good information, no responsibility is accepted by or on behalf of this site for any errors, omissions or misleading statements. Although every effort is made to ensure the reliability of this site.
---
---
Copyright:
Contents on this website may not be republished, reproduced, redistributed either in whole or in part without due permission or acknowledgement. All contents are protected by DMCA.
---
The content on this site is posted with good intentions & information purposes. If you own this content & believe your copyright was violated or infringed, make sure you contact us via This Means to file a complaint & actions will be taken immediately.
---