Nigerian Air Force Screening Date & Exam Centres– Candidate who qualified after the registration process would be invited for Zonal Recruitment Exercise screening as follows: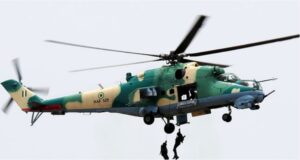 Candidates that qualified during the Zonal Recruitment Exercise would be invited for Final Selection Interview Exercise after which the list of successful candidates would be published for Basic Military Training.
All shortlisted candidates are required to attend the zonal screening exercise to be held in the zonal headquarters across the country. The national interview will take place at Abuja, and those who pass the zonal screening would be interviewed.
Nigerian Air Force Screening Date & Exam Centres 2020/2021
The Zonal Recruitment Exercise and Qualifying Tests for qualified candidates will hold in the following Centers.
Bauchi: 251 Nigerian Air Force Base, Bauchi

Benin: 107 Air Maritime Group, Nigerian Air Force – Benin

Enugu: 155 Nigerian Air Force Base, Enugu

Ilorin: 303 MAG – Nigerian Air Force, Oloje – Ilorin

Ipetu-Ijesha: 209 Forward Operation Group, Ipetu-Ijesha

Jos: 451 Nigerian Air Force Station, Jos

Kaduna: Nigerian Air Force Base, Kawo – Kaduna

Kano: 403 Flying Training School, Kano

Lagos: Sam Ethnan Air Force Base, Ikeja – Lagos

Maiduguri: 105 Composite Group, Nigerian Air Force Base, Maiduguri

Makurdi: Nigerian Air Force Base, Makurdi

Minna: 351 Nigerian Air Force Base, Minna

Port-Harcourt: 115 Special Operations Group, Nigerian Air Force, Port-Harcourt

Sokoto: 119 Forward Operation Base Mabera, Sokoto

Yola: 103 Strike Group, Nigerian Air Force, Yola
Note:  Candidates are to prepare to stay in Kaduna for about 7 days and to report with the following:
Original of their Credentials.

Birth certificate/Declaration of Age

2 White vests.

2 Blue PT Shorts.

1 Pair of Canvas Shoes.

Original certificates of NECO, WASC, NABTECH, ND as applicable, Trade test 3, 2,1 as applicable, NCE as applicable.
N/B: On Saturday 30 March 2019 (day slated for the Aptitude Test) all applicants are to come along with only their Acknowledgement Cards and blue biros from 7:00 am. The Aptitude Test starts at 11:00 am in all the Centres and ends at 12:00 noon.
Successful candidates are to come with the summary data page earlier received and email notification slip which shall admit them to the screening venue. Any candidate without the print out of the summary data page and notification slip for this phase of the exercise shall not be admitted into the screening venue.
Nigerian Air Force Recruitment Latest  Update
Dear Applicants, make sure you have access to the email you used for your application and always check your email for possible update and notification about the next stage of the recruitment. Good luck!
Nigerian Air Force Screening Requirements.
Successful candidates are to report to their various states screening centres with the following items:
Birth Certificate

Acknowledgement Card

Attestation of Local Government Area Form

Letter of Attestation of Good Character

Attestation of Parent/Guardian Consent Form

Originals of Education Certificates and NYSC Discharge Certificate

Writing Materials (for aptitude test).

Applicants are to print out the under-listed documents after completion of application online:


– Attestation Form




– Acknowledgement Card




– Serving Military personnel are to note that documents listed in a-b above are not applicable to them, however the special attestation form is to be filled by their current Unit Commander.
 For more information, please visit http://airforce.mil.ng