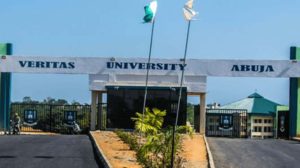 Veritas University Admission……..This is to inform both O level  and direct entering applicant that applications into Veritas University Abuja Nigeria are open for candidates who has the university  admission  requirements.  Such candidates can  apply into degree programmes on a full-time basis in the Colleges and Departments of the University for the 2019/2020 Academic Session.
Veritas University was founded by the Catholic Bishops Conference of Nigeria through a resolution given at its March 2002 meeting in Abuja. The initiative came from the Bishops' quest for a University that would provide high quality tertiary education according to the noble tradition of the Catholic Church.
Admission requirements
Eligibility
Candidates who made Veritas University, Abuja their first or second choice in the 2019 Unified Tertiary Matriculation Examination (UTME) application form.
All other candidates who did not choose Veritas University, Abuja as first or second choice but are interested in studying in the University.
Candidates in 1) and 2) above must have obtained a minimum score of 170 in the 2019 UTME.
Direct-entry candidates (must have obtained the 2019 Direct-Entry Form from JAMB).
Candidates wishing to transfer from other universities to Veritas University Abuja.
Method of Application
Available programmes of the institution
Faculty of Humanities
B.A. English and Literary Studies
B.A. History and International Relations
B.A. Philosophy
B.A. Religious Studies
Management Sciences
B.Sc. Accounting
B.Sc. Banking and Finance
B.Sc. Business Administration
B.Sc. Entrepreneurship
B.Sc. Marketing and Advertising
B.Sc. Public Administration
Natural and Applied Sciences
B.Sc. Applied Microbiology
B.Sc. Biochemistry
B.Sc. Computer Science
B.Sc. Industrial Chemistry
B.Sc. Physics with Electronics
B.Sc. Botany
B.Sc. Zoology
Faculty of Social Sciences
B.Sc. Economics
B.Sc. Mass Communication
B.Sc. Political Science and Diplomacy
Faculty of Education
B.A. Ed. Education English
B.Ed. Educational Management
B.Ed. Guidance and Counseling
B.Ed. Social Studies
B.Sc. Ed. Biology
Library and Information Science, BLIS
B.Sc. Ed. Business Education
B.Sc. Ed. Education Chemistry
B.Sc. Ed. Education Economics
B.Sc. Ed. Education Physics
Enquiries:
For further enquiries, please visit www.veritas.edu.ng