Canada work permit & Visa Online:- You can start your new life in Canada. The land of opportunities.This is why the New York Times newspaper has ranked Canada the 1 immigration destination in 2017.
It not longer news that Canada welcomes over 300,000 immigrants every year and is one of the most multicultural country in the world.
Harris poll conducted, 2015 indicates 91% of the people who immigrate to Canada believe the "Canadian Dream" is a reality.
However, If you are aspiring to work and live in Canada and wishing to unite with the Canadian reality, study carefully some steps through which you can get your  work permit
Do you need a work permit to work in Canada?
You usually need a work permit to work in Canada. In some cases, you can work without a permit. But in most cases you cannot work in Canada without a permit.
Types of work permits
Most people need a work permit to work in Canada. If you're not sure if you need one, find out if you need a work permit. There are 2 types of work permits: open work permits and employer-specific work permits.
1  Open work permits
An open work permit allows you to work for any employer in Canada, except for an employer:
who is listed as ineligible on the list of employers who have failed to comply with the conditions or
who regularly offers striptease, erotic dance, escort services or erotic massages
2.  Employer-specific work permits
An employer-specific work permit allows you to work according to the conditions on your work permit, which include:
the name of the employer you can work for
how long you can work
the location where you can work (if applicable)
Why you should apply online?
No courier fees or mail delivery time – we get your application instantly.
Online applications may be processed more quickly.
Avoid processing delays. Incomplete applications are returned to you. Applying online helps ensure your application is complete before you submit it.
If we need to ask for more documents, you can quickly submit them online.
You don't need to submit your passport until we ask for it.
Get updates on the status of your application directly in your online account.
How to apply for Canada work permit & Visa Online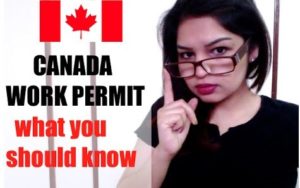 You can apply for a Canada work permit & Visa online or on paper. To apply for work permit in Canada you need to give your biometrics details.
In most cases, you now need to give your fingerprints and photo (biometrics) after you apply. Find out where biometrics fits in the application process. Click here to apply
What is a complete application package?
Your application package is complete when you have:
answered all of the questions on the application form, and
submitted all the necessary documents along with your application.
If you forget to send a document, your application may be returned to you, the processing of your application may be delayed, or your application may be refused.
To find out what you need to submit with your application you can:
read the instruction guide and the application package, that includes the paper application forms you need to fill out, or
use the Come to Canada tool to find out if you're eligible to apply and to get a personalized document checklist that provides you with a list of documents you need to submit, according to your specific situation.
How long will it take to process my application?
We can't tell you exactly how long it will take us to process your application. Each application is different and takes a different amount of time to process.
We can give you an estimate, based on your application type.
Check the processing times to find out how long it takes us to process most applications.
How can I check the status of my application?
It depends on the type of application.