Higher Institutions In Oyo State- How many higher institutions are  in Oyo State? We have answered this question by publishing the list of registered and  recognized Oyo higher-education institutions below.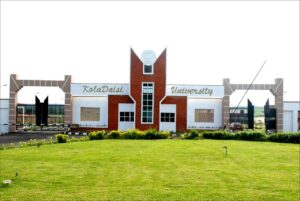 If you are intending to study in Oyo state, with this list, you have the choice to choose higher institutions in Oyo State instead of following a face value information. 
Oyo, usually referred to as Oyo State to distinguish it from the city of Oyo, is an inland state in south-western Nigeria, with its capital at Ibadan.
It is bounded in the north by Kwara State, in the east by Osun State, in the south by Ogun State and in the west partly by Ogun State and partly by the Republic of Benin.
Oyo happen to be the first state to host higher institution in Nigeria- University of Ibadan. There are over 40 higher institution in Oyo State. In this article we have listed some of them to help your choices.
Top  20 Higher Institutions In Oyo State
University of Ibadan, Ibadan

Lead City University, Ibadan

Oyo State Technical University, Ibadan, Oyo State

Ajayi Crowther University, Oyo

Ladoke Akintola University of Technology, Ogbomoso

KolaDaisi Univerisy, Ibadan-Oyo Road

Dominican University, Ibadan

Àtìbà University, Ọ̀yọ́

Oyo State College of Agriculture and Technology

The Polytechnic, Ibadan

Adeseun Ogundoyin Polytechnic

Oyo State College Of Nursing and Midwifery,Eleyele,Ibadan

Oyo State College of Health Science and Technology, Eleyele, Ibadan

The Oke-Ogun Polytechnic

Federal College of Agriculture, Moor Plantation

Federal College of Animal Health and Production Technology

The Ibarapa Polytechnic, Eruwa

Tower Polytechnic

Federal Cooperative College, Ibadan

Federal School of Statistics, Ibadan
List Of Universities In Oyo State
University of Ibadan, Ibadan

Lead City University, Ibadan

Dominican University, Ibadan

Oyo State Technical University, Ibadan, Oyo State

Àtìbà University, Ọ̀yọ́

Ajayi Crowther University, Oyo

Ladoke Akintola University of Technology, Ogbomoso

KolaDaisi University, Ibadan-Oyo Road
List of Colleges Education
 Federal College of Animal Health and Production Technology, Moor plantation Ibadan (FCAHPT)

Federal College of Agriculture Ibadan

Emmanuel Alayande College of Education

Oyo State College of Agriculture and Technology, Igbo-Ora

Oyo State College Of Nursing and Midwifery,Eleyele,Ibadan

Oyo State College of Health Science and Technology, Eleyele, Ibadan

 The College of Education, Lanlate.

Al-Ibadan College of Education

Aquatech College of Agriculture and Technology

Best Legacy College of Education

College of Banking and Finance
List of polytechnics in Oyo State
The Polytechnic, Ibadan

Adeseun Ogundoyin Polytechnic

The Oke-Ogun Polytechnic

The Ibarapa Polytechnic, Eruwa

Tower Polytechnic

Bolmor Polytechnic

The Kings Poly, Saki

City Polytechnic, Ibadan

Tower Polytechnic, Ibadan

Bolmor Polytechnic, Ibadan
List Of  Registered Tertiary Institutions In Oyo State
Federal School of Surveying, Oyo

Federal College of Forestry, Ibadan

Federal College of Agriculture, Ibadan

Federal Cooperative College, Ibadan

Federal School of Statistics, Ibadan

City Gate Institute of Innovation and Technology

Emmanuel Alayande College of Education, Oyo

Federal College of Agriculture, Moor Plantation

Federal College of Animal Health and Production Technology

Federal College of Education (Special)

Federal College of Forestry Technology