Ogun State was created from the old Western State on February 3, 1976 by the then regime of General Murtala Mohammed. It has Abeokuta as it's capital and largest city.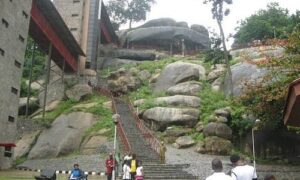 It borders Lagos State to the south, Oyo and Osun states to the North, Ondo State to the east and the Republic of Benin to the west… Source from Wikipedia, the free encyclopedia.
One of the amazing facts Ogun State is known for is the popular nickname ' Gateway State'. And why  Ogun State Nicknamed "Gateway State in Nigeria", is because the state is known for having a high concentration of industrial estates, produces notable number of people and being a major manufacturing hub in Nigeria.
The undisputed amazing facts Ogun State is known for also come  with her rich history and culture,  the state that has produced the majority of Nigerian political leaders; Olusegun Obasanjo, Obafemi Awolowo and Ernest Shonekan and so on.
Ogun state is also home to notable sons of Nigeria like Wole Soyinka, Fela Anikulapo Kuti, MKO Abiola, Ola Rotimi, Funmilayo Ransome-Kuti etc.
10 Amazing Facts Ogun State is known For.
 Education Ogun State 
Ogun State Culture
Tourisms in Ogun State
 Ethnic Groups
Ogun State Traditional Food
Mineral Resources
Ogun State Lisabi Forest
Ogun State Capital is Abeokuta

Adire Market

 Oldest Bible in Nigeria
1. Education Ogun State:
Ogun State leading in education and indeed in all fields of learning cannot be over-emphasized.
In fact, there is no field of human endeavour in Nigeria, be it medicine, law, accounting arts even politics that does not have an Ogun State indigene in a lead.
Ogun has one Federal University: the Federal University of Agriculture, Abeokuta; one state government college of education, Tai Solarin College of Education (TASCE), (formerly known as Ogun State College of Education, Ijagun, Ijebu-Ode, one Federal Polytechnic, Ilaro, one state government polytechnic, Moshood Abiola Polythechnic (MAPOLY), formerly known as Ogun State Polythechnic, Ojere, Abeokuta, and two state government universities: Olabisi Onabanjo University, Ago Iwoye (formerly known as Ogun State University), and the Tai Solarin University of Education (TASUED) Ijebu Ode.
The history of formal or western education in Ogun State is dated back to 1846 with the coming to Abeokuta by the Church Missionary Society (CMS) which led to the establishment of a Teacher Training Institute in 1849 and Abeokuta Grammar School in 1908.
During the administration of Chief Olabisi Onabanjo between1979 and 1983, free and compulsory Primary and Secondary Education Programme was executed.
The State at that period witnessed an upsurge in the number of Public Secondary Schools with an astronomical increase to 335.
Ogun State today, is foremost and has a comparative advantage among States in the Federation which place very high premium on the education of her citizens.
Little wonder that Ogun State is the homestead of many education icons in Nigeria such as the Chief Obafemi Awolowo, the Kutis, Dr Tai Solarin, Prof Wole Soyinka, Prof Afolabi Olabimtan, Chief Olusegun Obasanjo to mention but a few.
2. Ogun State Culture:
Cultural heritage of the people of Ogun state can never be over emphasized. Ogun state Nigeria is well known for their customs and traditional values even with advent Western education, the way of life of the people of Ogun state revolve around the various festival and celebrations.
The Lisabi festival commemorates the celebration of the Egba hero called Lisabi. Lisabi is known as a great warrior who fought assiduously for the peaceful settlement of the Egba people.
The Ojude-Oba festival is known to the Ijebus as a major festival that brings them together.
Osousi Festival is celebrated amongst the people of Ikija and Ago-iwoye in Ogun State. It is believed that the festival began thousands of years ago in Ejigbo Ife in Osun State, and as the pioneers of the festival.
The history of Egungun is traceable to the then Alaafin Sango in the old Oyo Empire.
When we talk about Izangbeto festival , we cannot but speak about Hogbonu in Ajase, Benin republic. There lived a famous warrior called TeAgbanlin who settled at Hogbonu.
Igunnuko festival at Ifonla usually falls on the third day of Id-El-Kabir and lasts for seven days. On the seventh day, very important personalities are invited for celebration.
Igunnuko festival at Ifonla usually falls on the third day of Id-El-Kabir and lasts for seven days. On the seventh day, very important personalities are invited for celebration.
3. Tourisms in Ogun State:
Apart from education and notable people of Ogun state, the state is also known for its amazing tourist attractions. Olumo Rock is a popular tourist attraction in the city of Abeokuta, Ogun State, Nigeria.
Birikisu Sungbo shrine is also a tourist centre in Ogun state located at Oke-|Eri village, where Muslims from all over the world converge for prayers.
Birikisu in her life time was known to be a devoted Muslim who possessed supernatural powers. It is claimed that she once dug a pit around the village with a needle.
Even in her grave, she is believed to still maintain her powers as no weed has ever grown on her burial ground and the place where she was washed before she was buried up till now.
Are you looking at places to visit in Ogun state? Please visit in the:
Ogun State Olumo Rock in Abeokuta,
Birikisu Sugbo Shrine at Oke-Eri,
Yemoji Natural Swimming Pool at Ijebu-Ode,
Oyan Dam in Abeokuta North,
Iwopin Boat Regatta
Ebute-Oni in Ogun Waterside.
Madam Tinubu Shrine, Abeokuta;
Oronna Shrine, Ilaro.
Area J4 Forest Reserve;
Tongeji Island, Ipokia.
Old Manse at Ogbe, Abeokuta;
St.James Anglican School, Ota
Ijamido River Shrine,Ota.
4. Ethnic Groups:
Ogun State is made up of six ethnic groups viz, the Egba, the Ijebu, the Remo, the Egbado, the Awori and the Egun.
The language of the majority of the people of Ogun State is Yoruba but this is however broken into scores of dialects.
The Ijebus in the state were the first Yoruba speaking people to have contact with the Europeans in the early 14th century.
They were the first Yorubas to have invented money made from cowry shells called 'Owo Eyo', which was accepted throughout the kingdom of Yorubaland but was later replaced by legal tender coins made from silver materials called 'Pandora' when the Europeans came.
5. Ogun State Traditional Food:
Agriculture is the economic mainstay of Ogun, Ogun state traditional food comprises the agricultural produce such as  rice, corn (maize), cassava (manioc), yams, plantains, and bananas.
Cocoa, kola nuts, rubber, palm oil and palm kernels, tobacco, cotton, and timber are the main cash crops.
6. Mineral Resources;
Mineral resources include limestone, chalk, phosphates, and clay. Industries produce cement, canned foods, foam rubber, paint, tires, carpets, aluminum products, and plastics.
7. Ogun State Lisabi Forest:
The Lisabi Forest is another amazing facts Ogun State is known for. According to history, the forest is named after Lisabi Agbongbo Akala, a warrior, who liberated the Egbas during the inter-tribal wars.
It is said that he led his men through the forest. His heroic exploit is celebrated by the sons and daughters of Egbaland with an annual march to the Lisabi forest.
The forest is also considered to be home to rare species of birds and plants. Also, there are rumours that the warrior's remains can be found in the forest.
The Lisabi forest has over the years received both local and international visitors. It is one of those places you should have on your to-do list if you are in Ogun state.
8. Ogun State Capital is Abeokuta:
Abeokuta is the capital of Ogun state Nigeria,  an important market centre and terminus of the roads and railways coming from Lagos and other parts of the country.
Major tourist attractions are Olumo rock as we mention ealier, which according to tradition provided refuge for early Egba settlers; the Ake, the residence of the alake (the traditional ruler of Egbaland), built in 1854 and noted for its collection of antiquities and relics; and the Centenary Hall, all in Abeokuta.
9. Adire Market:
One of the biggest commodity exported from Abeokuta is the Adire, which means 'Tie & Dye'.
The Adire Market, at the centre of Abeokuta, is home to the famous Egba women who ensure that the Adire (Tie & Dye) industry does not die by passing the intricate designing skills to their daughters.
It is not unusual to see traders adorn themselves in the traditional Adire Bubas and towering headgears to match. The market is considered the largest Adire market in Africa.
The market is one of the tourist attractions in the state. If you plan on visiting, you would like to have a camera to capture the beautiful market of colours and also lots of money to buy Adire products.
10. Oldest Bible in Nigeria:
A copy of St James version of the bible was first presented in Ogun State Nigeria by queen victoria to Chief Akinrinlewo Sodeke in 1848 in his compound and was lost to fire disaster in 1868.
In July, 1904 King Edward the VII of Great Britain and Ireland represented the Bible.
The Bible is presently kept at Ake palace, Abeokuta for the benefits of tourists and visitors.
The Bible is reputedly known to be the oldest Bible in Nigeria.
We Believe This Article Was Helpful, Don't Hesitate To Share This Information With Your Friends On
Facebook, Twitter, Whatsapp and Google plus.
---
Disclaimer:
The contents on this site is provided as an information guide only. They are intended to enhance public access to information about Education and other Endeavors. While every effort is made in preparing good information, no responsibility is accepted by or on behalf of this site for any errors, omissions or misleading statements. Although every effort is made to ensure the reliability of this site.
---
---
Copyright:
Contents on this website may not be republished, reproduced, redistributed either in whole or in part without due permission or acknowledgement. All contents are protected by DMCA.
---
The content on this site is posted with good intentions & information purposes. If you own this content & believe your copyright was violated or infringed, make sure you contact us via This Means to file a complaint & actions will be taken immediately.
---