We have seen so many Nigerians names associated with different models and brands of luxury cars cruising the streets of Lagos, Abuja and one may begin to wonder, who they are.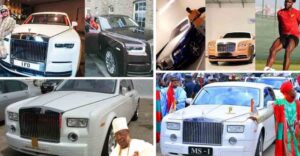 We will be focusing on 20 out of many Nigerians who are Rolls-Royce Motor Car Owner In Nigeria. Our list includes Nigerian Celebrities who also  drive and own the Rolls Royce in Nigeria.
Bear in mind that some of them have more than one Rolls Royce sitting in their garage.
Some  are millionaires and  some are actually billionaires. In Dollars. So, clearly, they are financially-equipped to acquire any kind of car that the automotive industry has to offer. These money making Nigerians own at least one of the world's most prized luxury cars.
However, there is something unique about this set of Rolls-Royce Motor Car Owner In Nigeria. Some keep and use their Rolls-Royce in  abroad, some of them actually use their Rolls-Royces in Nigeria.
Before our official list of Rolls-Royce Motor Car Owner In Nigeria, It is confirmed that Otunba Subomi Balogun  owns up to eleven Rolls Royce cars.
He is the founder of Nigerian bank, First City Monument Bank (FCMB) and he is also an Ijebu born Prince. He has for himself up to 11 customs built Rolls Royce among his fleet of luxury cars.
Names of Rolls-Royce Motor Car Owner In Nigeria:
 1. Mike Adenuga – Rolls-Royce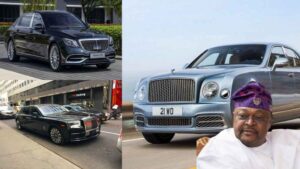 Michael Adeniyi Agbolade Ishola Adenuga Jr owns Globacom, Nigeria's second-largest telecom operator. Globacom also has presence in Ghana and Benin.
Mike Adenuga also owns stakes in the Equitorial Trust Bank and the oil exploration firm Conoil PLC.
In 2017, Forbes estimated his net worth at $5.8 billion, which makes him the second-wealthiest Nigerian behind Aliko Dangote, with a net worth of $14.1 billion.
The Globacom chairman rarely make public appearances. He does not own a Rolls-Royce in Nigeria. He, however, owns and keeps one in London.
2. Femi Otedola  – Rolls-Royce
Femi Otedola is a Nigerian businessman, entrepreneur philanthropist, and chairman of Forte Oil PLC, an importer of petroleum products.
He is also the founder of Zenon Petroleum and Gas Ltd, and the owner of a number of other businesses across shipping, real estate and finance.
He recently invested in power generation as part of the liberalisation of the sector in Nigeria.
In Nigeria, Femi Otedola owns a fleet of Mercedes Benz cars. However, in London, Femi owns 2 Rolls-Royces – one, a 4-door and another, a convertible Rolls-Royce.
3. Prince Dapo Abiodun – Rolls-Royce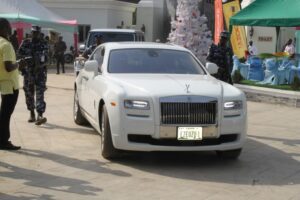 Prince Adedapo Oluseun Abiodun is the CEO of Heyden Petroleum Limited.
He is also the CEO of Innovative Ventures Limited and Securitel Consult Limited – an indigenous Nigerian company specializing in the provision of telecommunication systems, electronic safety and security engineering from 1991 till date.
Prince Abiodun is also the Chairman of First Power Limited, a power generating company from 2009 till date.
Prince Dapo Abiodun owns a Rolls-Royce Ghost. It is kept in his London home.
4. Chief Dele Fejemirokun  – Rolls-Royce
Chief Dele Fajemirokun served as Chairman of Food Concept and Entertainment Plc. He currently serves on the Board of many companies in various capacities as both Chairman and Director.
He is the Chairman of AIICO Insurance Nigeria Plc, Xerox HS (Nigeria) Limited, Kings Guards Limited, Logic Sciences Limited, Spar Aerospace and GS Telecom amongst others.
Chief Dele Fejemirokun owns an old Phantom in Nigeria. However, he keeps a newer model Rolls-Royce Phantom (series 2) in his London home.
5. Tunde Folawiyo – Rolls-Royce
Babatunde Tijani Folawiyo is the Managing Director of Yinka Folawiyo Group, which has interests in energy, agriculture, shipping, real estate and engineering.
He also serves as Director of MTN Nigeria Ltd. Tunde also founded Folawiyo Energy Ltd, a subsidiary of the Yinka Folawiyo Group of Companies.
According to Forbes, he has an estimated net worth of $650 million and is the 39th richest person in Africa.
He is not known to own a Rolls-Royce in Nigeria. However, he has a Rolls Royce Wraith in his London penthouse.
6. Segun Fagboyegun – Rolls-Royce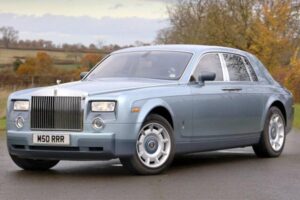 Segun Fagboyegun is the Managing Director and CEO of JOF Nigeria Limited. He has had over 25 years experience in the fields of Law, Finance and Business Management.
He is the founder of Segun Fagboyegun & Associates, a firm of solicitors, advocates and legal consultants based in Lagos.
JOF Nigeria Ltd has visible presence in key sectors of the Nigerian economy such as Commodity Trading, Import and Export Services, Logistic Services, Real Estate Development, Portfolio Investments in Shares and Vegetable Oil Manufacturing.
He currently serves on the Board of Directors of several reputable companies including Tulip Cocoa Processing Ltd. and Araromi Ayesan Oil Plantation Plc, amongst others. He is a member of the Institute of Directors (London).
Segun Fagboyegun is one of the elite Nigerians who although he does not own a Rolls-Royce here in Nigeria, owns one in London.
7.  Aare Bolu Akin Olugbade – Rolls-Royce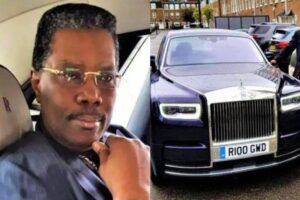 Prince Bolu Akin Olugbade, the Are Ona Kakanfo of Owu Kingdom (Chief of Defence of Owu Kingdom) is a philanthropist and a one time Nigeria's presidential aspirant.
He is an avid Rolls-Royce collector. At the last count, he has acquired about 10 Rolls-Royces.
His 10 Rolls Royce cars are in his houses all over the world.
However, he has two that he uses whenever he is in the UK.
8. Tony Ezenna – Rolls-Royce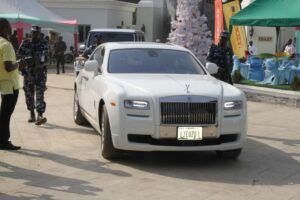 The billionaire businessman and owner of Orange Drugs Limited is another Nigerian who has decorated his garage with a Rolls Royce Phantom.
9. Bola Shagaya – Rolls-Royce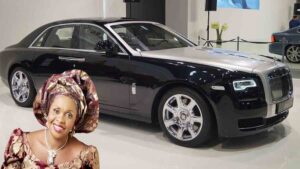 The astute and shrewd businesswoman is another proud owner of a brand of Rolls Royce.
10. Dino Melaye – Rolls-Royce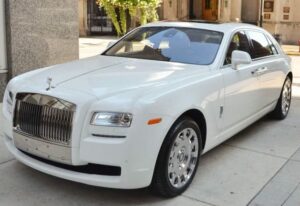 Born on the 1st of January, 1974, Dino Melaye is a Nigerian politician, Senator, and a one-time member of the Nigerian National Assembly, representing Kogi West Senatorial district. Dino Melaye has great taste and this is seen by the kind of cars he owns, amongst his fleet is a Rolls-Royce Phantom believed to be worth about ₦163.3 million.
11. Reverend  Christ Okotie – Rolls-Royce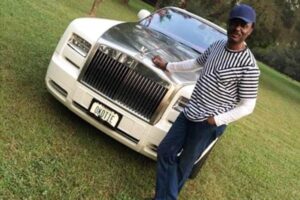 The enigmatic shepherd of Household of God Church, Oregun, Lagos, also acquired a Rolls Royce Phantom in 2014, to mark his 30 years as a born again Christian  and 27 years as a pastor in the Lord's vineyard.
12. Sanusi Lamido – Rolls-Royce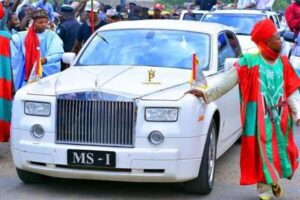 The formal Emir of Kano has one too. He rode in it on November 25, 2015, when he was installed the chancellor of University of Benin, Benin, Edo state.
13. Gabriel Igbinedion – Rolls-Royce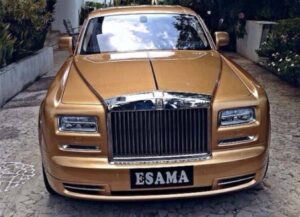 The Esama of Benin, has three Rolls Royce too. The latest being the one he bought in 2012, for his wife during her 60th birthday.
14. Otunba Subomi Balogun – Rolls-Royce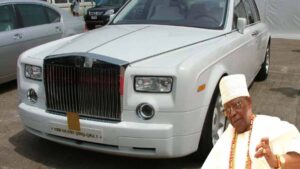 The Olori Omoba of Ijebuland and a bank guru has an enviable collection of Rolls Royce. So far, we gathered that the dandy old man who is in love with white apparels has three Royce Royce cars in his expansive garage.
15. Gladys Ndubuisi Kanu – Rolls-Royce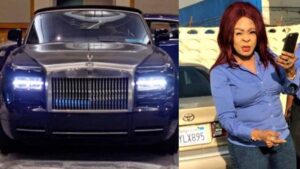 In 2014 when the heat of the brand-new Rolls Royce Phantom 2014 just started to rise, Gladys Ndubuisi Kanu embarked on taking one home right away. With the extended wheelbase, the wife of former military governor Godwin Ndubuisi-Kanu had to pay for 120 million Nairas.
Nigerian Celebrity that Owns Rolls-Royce
1. DJ Cuppy  – Rolls-Royce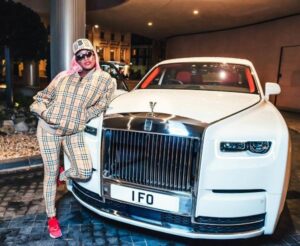 Florence Otedola popularly known as Dj Cuppy is a female Nigerian DJ and daughter of a popular billionaire – Femi Otedola.
Her love for expensive and luxurious cars is so beautiful, amongst her fleet of cars is a Rolls Royce Phantom which costs about 162 million naira. She also gifted her Dad a Rolls-Royce Phantom as his Christmas present.
2. Phyno – Rolls-Royce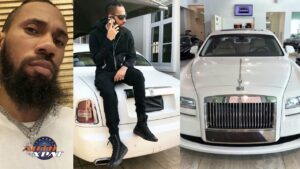 Phyno is a Nigerian indigenous rapper, popularly known as Phyno- Fino. He started his music career as a producer in 2003 and is renowned for rapping in the Igbo language.
With a whopping net worth, Phyno is the next name who can afford a brand new Rolls-Royce Phantom. The price is believed to range from ₦200 million onwards.
3. Peter Okoye – Rolls-Royce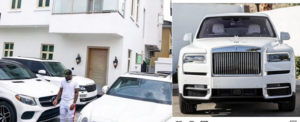 A former member of the duo popularly known as P-square. Peter Okoye, who is also known by the stage name Mr P. Born November 18th, 1981, Peter is married with kids and known to have a good taste of fashion, style, and luxury.
Peter Okoye has gained a few profitable endorsement deals since he went solo. Just to mention a few, he got a lucrative deal with the German famous sportswear company, Adidas, the dairy company "Olympic Milk", he started his own dancing show "Glo Dance with Peter".
He also became a brand ambassador for the KIA Motors Nigeria company, which also turned out to be very profitable for him. All these deals have increased his financial strength and have granted him more opportunities to acquire all the luxury he desires.
He rides 2 Rolls-Royce, one is a Rolls-Royce Phantom that is believed to cost about ₦204M
4. J Martins – Rolls-Royce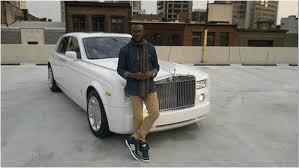 Do you still remember this name? Martins Okechukwu Joshua popularly known as J Martins is a Nigerian singer, songwriter, recording artist, stage performer, record producer, and model.
Born on 29th September 1977 in Onitsha, Anambra State in the southeastern part of Nigeria. He owns a 2012 model of Rolls-Royce Phantom, the car has a starting price of ₦92 million.
One can tell that he's a rich man as buying a car worth that amount of money is no joke at all.
5. Brown Ideye – Rolls-Royce
A Nigerian Professional footballer who plays for a Turkish team (Göztepe) as a Striker and also for the Nigerian national team.
In 2014, he bought for himself a 2015 Rolls Royce Ghost, costing over N45 Million. He has other expensive cars sitting in his garage and the Rolls Royce is one of many.
We Believe This Article Was Helpful, Don't Hesitate To Share This Information With Your Friends On
Facebook, Twitter, Whatsapp and Google plus.
---
Copyright Warning:
Contents on this website may not be republished, reproduced, redistributed either in whole or in part without due permission or acknowledgement. All contents are protected by DMCA.
---
The content on this site is posted with good intentions & information purposes. If you own this content & believe your copyright was violated or infringed, make sure you contact us via This Means to file a complaint & actions will be taken immediately.
---