Beautiful Hotels & Resorts In Africa– Africa is the world's second-largest and second-most populous continent, after Asia. At about 30.3 million km² including adjacent islands, it covers 6% of Earth's total surface area and 20% of its land area. With 1.3 billion people as of 2018, it accounts for about 16% of the world's human population.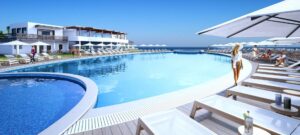 Africa to a very large extent boasts of a diverse, rich contemporary culture and heritage, fused with an unadulterated sense of hospitality; as a result,  Africa in the world ranking provides some of the most unique and luxurious hotel accommodations.
In this page, we have discuss Africa as one the continent in the world which host  some magnificent hotels that can be described as some of the most elegant and luxurious in the World.
The top ten most beautiful hotels & resorts in Africa are also the best hotels in Africa.  Travellers love to consider these hotels because they are well worth visiting when you want accommodations that are unrivalled regarding beauty, comfort, and services. These hotels can compete with the best hotels in the world.
Top 10 Best Hotels In Africa:
1. Nile Ritz Carlton Hotel- Egypt
2. Palais Namaskar Hotel- Morocco
3. Eko Hotel Lagos- Nigeria
4. Fairmont Mount Safari Club- Kenya
5. Constance Tsarabanjina Hotel – Madagascar
6. Oyster Box – Umhlanga Rocks, South Africa
7. Lux Belle Mare Hotel- Mauritius
8. Diamonds Mequfi Beach Resort – Mecufi, Mozambique
9. Corinthia Hotel Khartoun
10. Zuri Zanzibar Hotel Zanzibar, Kendwa, Tanzania
Top 10 Most Beautiful Hotels & Resorts In Africa:
1. Nile Ritz Carlton Hotel- Egypt
As the best luxury,  beautiful hotels & resorts in Africa , it is also among the best  in the world. The Nile Ritz-Carlton, Cairo has hosted generations of guests throughout the years.
Set along the River Nile, the downtown hotel upholds its legacy and the city's ancient history. Accommodations with historical photographs, dining that stays true to traditional flavors and lush gardens overlooked by the iconic Egyptian Museum tell the story of a Cairo hotel bridging the past with the present.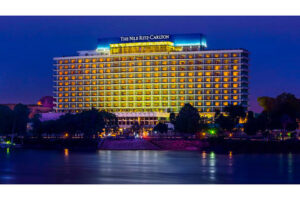 Facilities:
Nine diningoptions and rooftop lounge
Lavish spawith signature treatments
Olympic-sized pool and fitness center
Large ballroom with space for 1,200
Outdoor event space with stunning views
Luxury roomsoverlooking the River Nile
The hotel is located opposite the Nile River, this upscale hotel is 1 km from the Egyptian Museum of Antiquities and the Cairo Opera House.

The elegant rooms with fine linens and marble bathrooms also feature balconies with city or river views, plus flat-screen TVs, coffeemakers and minibars. Suites add separate sitting areas; some have formal dining rooms and access to a private lounge with free breakfast. Room service and Wi-Fi are available.
There are 4 restaurants, 3 bars, 2 lounges and a pastry shop. Other amenities include a spa, a fitness center, a kids' club and an outdoor pool.
View official Website 
2. Palais Namaskar Hotel- Morocco
Palais Namaskar is another beautiful hotels & resorts in Africa. The hotel  is a tranquil oasis where luxury spans in every corner. Commanding more than five acres of lakes with amazing views, the resort is source of virtuous energy and a pure delight for couples and families.
Palais Namaskar is located in a quite environment, surrounded by nature, minutes from the legendary Palmeraie and its exotic landscape and 20 minutes from the city center and the iconic Marrakech Medina.
A palatial architecture inspired from Feng Shui concept reflected through a unique combination of oriental and contemporary in the 41 rooms, suites, villas and exclusive palaces, all surrounded by waterways, gardens, private pools where everything echoes elegance, luxury and comfort.
Offering a fine dining experience, with seasonal menus masterfully created by our talented Executive Chef, Khalid El Goumani, at "Le Namaskar" Restaurant, guests can savor international fine cuisine with a twist of Moroccan and Asian flavours.
At Sunset, the Nomad bar and its rooftop terrace offer a unique backdrop where you indulge in the beauty of the surrounding landscapes, and the magnificent Atlas Mountain.
A selection of signature cocktails and premium spirits is served with a large choice of fine bites. Palais Namaskar is a wellness destination with a Spa entirely dedicated to well-being, an authentic Moroccan hammam, and spa treatments cabins conferring signature treatments and skin products by La Maison D'Asa.
A private coach is available to attend all guests optimize their workouts in our state of the art fitness, guests can also book outdoor yoga and meditation classes with our yoga specialist.
View Official Website.
3. Eko Hotel Lagos- Nigeria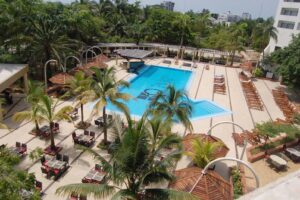 The hotel location is an 8-minute walk from Kuramo Beach on the Gulf of Guinea, this relaxed hotel is 6 km from the Nigerian National Museum and 31 km from Murtala Muhammed International Airport.
Eko Hotels & Suites is the most preferred hotel in West Africa and it's all about the right mix! Located in the heart of Victoria Island and shielded from the hustle and bustle of the Lagos metropolis, we offer our corporate clients and walk in guests a perfect blend of relaxation, activities, and African tradition delicately infused to meet the highest international standards.
Overlooking the Eko Atlantic City and Ocean, it is just a 10-minute drive to the City Centre and only 45minutes away from the Airport. Our hotels are designed for your comfort and convenience. Your security is our primary concern and you'll find our customer care second to none.
Airy rooms with balconies and wood floors offer free Wi-Fi, flat-screen TVs and safes. Upgraded rooms add minifridges, and tea and coffeemaking equipment; some have garden views. Suites feature separate living areas. Upgraded suites provide Nespresso machines and panoramic views.
Amenities include 5 restaurants, a cafe and 2 bars, as well as an outdoor pool, a gym, a tennis court and a spa. Meeting and event space is also available.
View official Website
4. Fairmont Mount Safari Club- Kenya
This is the third most beautiful hotel in Africa. The Fairmont Mount Kenya Safari Club offers luxury accommodation in Nanyuki, Kenya.
A magnificent view to behold, the prestigious main structure reflects the 1950's colonial architectural design with a luxury country club feel, complemented with independent quaint cottages, including William Holden's original cottage.
With magnificent views of majestic Mount Kenya, the Fairmont Mount Kenya Safari Club Resort's 110 luxuriously appointed hotel rooms and villas, set in over 100 acres of landscaped gardens, offer a unique blend of comfort & relaxation.
View official website.
5. Constance Tsarabanjina Hotel – Madagascar
Constance Hotels & Resorts is a collection of authentic hotels peppered in the Indian Ocean: In Mauritius, the Maldives, the Seychelles and Madagascar.
Authentic and True hotels with a genuine passion for hospitality committed to delight all guests with inspiring flavours, blissful spa treatments, and timeless adventures with an unsurpassed level of service.
Constance Hotels & Resorts with a genuine passion for hospitality provides True experiences to all guests.
With passionate employees and tailor-made services, we share our idea of luxury through our art of living:
experience the finest moments in life in authentic surroundings of pure beauty, without ostentation.
Laid back atmosphere, barefoot chic, intimate retreat, eco-friendly, unspoilt Madagascan Island surrounded by azure water; the resort offer chic Robinson Crusoe-like experience.
Enjoy our All-Inclusive Package which includes everything from premium drinks to authentic cuisine and comfortable accommodation. Be among the first to seek out the hidden depths and gems of the unspoilt location.
Click here to visit official website..
6. Oyster Box – Umhlanga Rocks, South Africa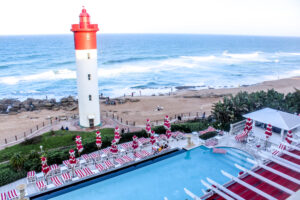 Overlooking the Umhlanga Lighthouse and Indian Ocean, The Oyster Boxoffers 2 outdoor pools, an award winning spa and free Wi-Fi. Gateway Shopping Centre is 2 km away.
The rooms at the 5-star Oyster Box are decorated with rich fabrics and furnishings. They include satellite TV, Mini Bar facilities and tea/coffee making facilities. Some guest rooms offer a private lounge area, patio and plunge pool.
The Ocean Terraces Restaurant overlooks the Indian Ocean and offers a delicious seafood and curry buffet. The Grill Room offers up the best premium steaks and seafood dishes. Guests reserving Half-Board reservations are offered a signature set menu, hosted either in The Ocean Terrace or The Grill Room.
Guests can work out with cardiovascular equipment at the gym, followed by a soothing massage by one of the onsite experts.
The Oyster Box as a beautiful hotels & resorts in Africa is set in the heart of Umhlanga Rocks and within walking distance to restaurants and shops. Free private parking is available.
This is our guests' favourite part of Durban, according to independent reviews.
This property also has one of the best-rated locations in Durban! Guests are happier about it compared to other properties in the area.
7. Lux Belle Mare Hotel- Mauritius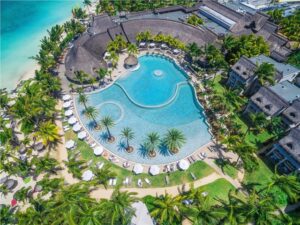 Lux Belle Mare Hotel is set on a beach; this polished resort is 11 km from hiking trails in Bras d'Eau National Park and 48 km from Sir Seewoosagur Ramgoolam International Airport.
LUX* Belle Mare, a beautiful, forward-thinking resort nestled on the wild east coast of Mauritius, encapsulates island living at its best: a glimmering lagoon and sugar-white sand beach, unrivalled service and charm, a huge swimming pool, exquisitely designed villas, fabulous restaurants and the most creative pop-up dining experiences, and even in-house coffee and ice-cream brands and an organic farm. We mean it when we say there's something for everyone.
Featuring balconies or patios with ocean or pool views, the airy, refined suites offer free Wi-Fi and flat-screen TVs, plus coffeemakers and minibars. They also have dressing rooms and sitting areas; villas add private pools. Room service is available 24/7.
Dining options include upscale Indian and Chinese restaurants, a cafe, bars and a beachfront eatery. There's a spa, a heated outdoor pool with a kids' section, and a private.
Click here to view official website
8. Diamonds Mequfi Beach Resort – Mecufi, Mozambique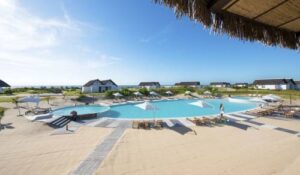 Mozambique is the new and exclusive destination for those who want to explore a still unspoilt region, where nature in all its beauty is the absolute protagonist: unexplored nature reserves, timeless archipelagos and stretches of sand that plunge into the deep blue Indian Ocean.
Diamonds Mequfi Beach offers guests plenty of relaxation time and a unique atmosphere, where attention to clients' needs, the quality of service, and the beauty of the location, all contribute to ensuring an unforgettable holiday, looking for a little romantic tranquillity, perhaps after a safari in the famous Gorongosa National Park among the lions, elephants and giraffes, or an excursion in the Quirimbas Archipelago, with its coastal forest, coral reefs and sea turtles.
The 50 rooms, 40 deluxe rooms and 10 suites, are set out in beach bungalows and are spacious and bright, decorated in a contemporary style with local details and materials, equipped with all the comforts and with a private terrace offering stunning ocean views.
At the center of the Resort, is a saltwater swimming pool with sun beds for relaxing on and a bar that remains open until late so that one can enjoy the magic of the African nights and one of the most important aspects of Mequfi Beach is its' cuisine, which is able to satisfy even the most discerning palates, with 3 different restaurants available for guests.
View the official website
9. Corinthia Hotel Khartoun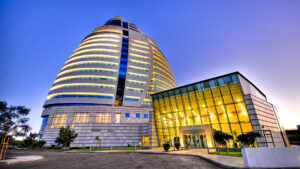 The Corinthia Hotel Khartoum is a five-star hotel in central Khartoum, the capital of Sudan, on the meeting point of the Blue Nile and White Nile and in the centre of Khartoum's commercial, business, and administrative districts. It is located next to the Friendship Hall of Khartoum and the Tuti Bridge.
From intimate gatherings through to landmark meetings with 1,000 delegates, Corinthia Khartoum is the ideal destination.
The highest calibre of creative and logistic skill is employed, whatever it takes to ensure your event is a resounding success.
View official website:
10. Zuri Zanzibar Hotel Zanzibar, Kendwa, Tanzania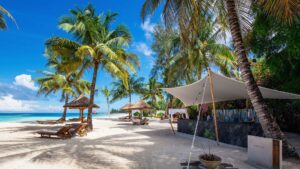 Zuri, a high-design eco-resort, spills onto the best stretch of beach on the Tanzanian archipelago. Follow lantern-lit jungle paths to one of 55 thatched-roof villas gathered in clusters reflecting a traditional African village.
The first Design Hotel in Zanzibar, Zuri serves sustainability with Afro-chic style.  Zuri is quite literally off the beaten track, secreted away at the end of an unpaved road about an hour from the airport and Stone Town.
Draped across a gentle beachside slope in Kendwa, the 13-acre Zuri micro-universe feeds into dreamy, sunset-facing beach, uniquely unaffected by the massive tidal fluctuations that plague the rest of the region's beaches.
You can't pass the flocks of gardeners in wide-brim sunhats and other staff members without hearing Swahili greetings of 'jambo' or 'hakuna matata.' Service is slow, steady and smiley.
View official website