#EndSARS Protest In Nigeria against police brutality began on Oct. 8, after a video emerged in early October showing police officers thought to be from the notorious Special Anti-Robbery Squad, or (SARS allegedly shooting and killing a young man in Nigeria's southern Delta State.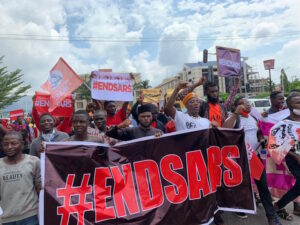 Although Nigerian authorities denied the reports, protests erupted across the country calling to disband the unit and #endSARS.
Though they are leaderless, the demonstrations are mostly driven by young people who say they have been unfairly profiled by SARS.
The #endSARS hashtag dates back to at least 2017, when it was used to share experiences of assault and violence.
About Nigerian SARS -Special Anti-Robbery Squad.
According to available information on Wikipedia, The Special Anti-Robbery Squad (SARS) was a Nigerian Police Force unit created in late 1992 to deal with crimes associated with robbery, motor vehicle theft, kidnapping, cattle rustling, and firearms.
It was part of the Force Criminal Investigation and Intelligence Department (FCIID), headed by Deputy Inspector General of Police Anthony Ogbizi
The major reason SARS was formed was when Col. Rindam of the Nigerian Army was killed by police officers at a checkpoint in Lagos in September 1992, later leading to the arrest of three officers.
When the information reached the army, soldiers were dispatched into the streets of Lagos in search of any police officer. The Nigerian police withdrew from checkpoints, security areas, and other points of interest for criminals; some police officers were said to have resigned while others fled for their lives.
Due to the absence of police for two weeks, the crime rate increased and SARS was formed with only 15 officers operating in the shadows without knowledge of the army while monitoring police radio chatters.
Due to the existence of three already established anti-robbery squads that were operational at that time, Midenda needed to distinguish his squad from the already existing teams.
Midenda named his team Special Anti-Robbery Squad (SARS). After months of dialogue the Nigerian Army and the Nigeria Police Force came to an understanding and official police duties began again in Lagos.
The SARS unit was officially commissioned in Lagos following a ceasefire by the army after settlement.
Why  Young Nigerians Protest Nationwide?
Over 70% of the population is under 30 years of age. Unemployment stood at 21.7 million in the second quarter of 2020. The youth account for 13.9 million of this.
Young Nigerians are, therefore, most affected by government policies that have led to a lack of jobs and meaningful sources for livelihood. Other triggers include the lavish lifestyle of political leaders. The government budgets more money for the members of the National Assembly than for health and education.
Important Of #EndSARS Protest In Nigeria
One takeaway is that a new social contract is being written. Nigerians are creating a new understanding of how leaders and public servants should relate to citizens.
Secondly, the youth are reinventing governance in Nigeria and bringing about a new culture of asserting rights among the citizenry.
Main Motive Of Nigerian Youths
The youth believe that the men in uniform are meant to serve the citizens and to protect them. It is a different relationship entirely. Young people are more exposed to the fact that things could be better and are ready to take their destiny into their own hands. They want to reinvent the country and to be a better place to live.
Their access to the internet also informs their action. They are able to reach the world from their bedroom.
 Political Dimension Of The Protest
For many years, Nigeria has been ruled by leaders who are quite elderly. These have not succeeded in finding solutions to the nation's challenges.
Corruption and hunger are rife. It is obvious that young Nigerians feel alienated and are now ready to take the bull by the horns and ensure good governance.
World  Reaction On #EndSARS Protest In Nigeria
I am deeply concerned over reports of violence in Lagos and urge the Nigerian government to engage in peaceful dialogue with the #EndSARS protestors for police reform and an end to corruption.

— Bill Clinton (@BillClinton) October 21, 2020
Today authorities opened fire on a peaceful protest in Lagos. We are heartbroken at what's happening in Nigeria, and what the citizens are going through. We are proud of the people of Nigeria for their strength and for fighting against injustice in their community. #EndSARS pic.twitter.com/XgDsg6T20p

— MEFeater Magazine (@mefeater) October 20, 2020
Following up, @EUinNigeria Amb. Ketil Karlsen is alarmed by casualties during protests in Nigeria and calls for calm. Perpetrators of violence must be held accountable. Government initiative to reform is welcome. Vital to see decisive implementation. Dialogue is key. #ENDSars https://t.co/afHWvtbTZO

— EU in Nigeria 🇪🇺🇳🇬 (@EUinNigeria) October 21, 2020
Odious Situation  In #EndSARS Protest In Nigeria
Case 1
Several videos circulating on social media showed crowds gathering at the Lekki toll gate in one of the suburbs of Lagos, where #endSARS protesters have been camped for two weeks.
Witnesses told the BBC that uniformed men opened fire, and soldiers were seen barricading the protest site before the shooting, and Amnesty International received reports that shortly before the shootings, CCTV cameras at the Lekki toll gate were removed by government officials and the electricity was cut in an attempt to hide evidence.
Video footage showed protesters singing the national anthem in the darkness, the noise gunfire as people ran away from the scene, and protesters tending to the injured at the scene.
According to Amnesty International, at least 56 people have died across the country since the protests began, with about 38 killed on Tuesday alone
Case 2
Channels Television and Lagos State Television (LTV) were reportedly attacked and shut down by unknown persons.
According to a staff of Channels TV, who prefered to remain unnamed, the Management moved them to a safe location within the premises, when hoodlums kept banging the gate in a frantic attempt to gain access to the premises.
Case 3
The United Kingdom High Commission in Nigeria on Wednesday, October 21, 2020, announced the shutdown of its VISA application centers in Nigeria for the next 48 hours, with effect from today (Wednesday), due to the ongoing #EndSARS protests in the country.
This comes barely a day after the US shut down its Lagos consulate, following the outbreak of violence from the #EndSARS protests in major parts of the country including Lagos State and the FCT.
We Believe This Article Was Helpful, Don't Hesitate To Share This Information With Your Friends On
Facebook, Twitter, Whatsapp and Google plus.
---
Disclaimer:
The contents on this site is provided as an information guide only. They are intended to enhance public access to information about Education and other Endeavors. While every effort is made in preparing good information, no responsibility is accepted by or on behalf of this site for any errors, omissions or misleading statements. Although every effort is made to ensure the reliability of this site.
---
---
Copyright:
Contents on this website may not be republished, reproduced, redistributed either in whole or in part without due permission or acknowledgement. All contents are protected by DMCA.
---
The content on this site is posted with good intentions & information purposes. If you own this content & believe your copyright was violated or infringed, make sure you contact us via This Means to file a complaint & actions will be taken immediately.
---