The prices of 9 inches block in Nigeria has drastically gone up, considering the cost of raw building materials nowadays. Unarguably, ordinary blocks for example, apart from the costs of other aesthetic blocks, are priced according to the cost of sand and cement. Though there are two types of blocks in NIGERIA, namely: the 6 inches block and the 9 inches block. These blocks are majorly selected dependently on the financial standard of the owner of the prospective house or the choice of the owner of the prospective house.
What Then Are Blocks or Building Blocks?
Building blocks are solid materials used in the construction of structures, as their name indicates. They are composed of concrete or cement and may have a hollow core to make them lighter and increase their insulating characteristics. Building blocks are used to construct the foundation and walls of structures.
Different types of building blocks are available on the market in Nigeria nowadays at various costs. Popular types include regular blocks and stone dust blocks, which are used to build home foundations and walls. There are two different sizes of these blocks: 6-inch and 9-inch. Apart from the standard construction blocks described above, there are certain blocks that are used for aesthetic purposes. Aesthetic blocks come in a variety of shapes and sizes, and they're employed to beautify structures, as previously said. Simply, they are used for decoration rather than structural functions.
The Different types of Building Blocks in  Nigeria
Crystal Glass Block
White Glass Block
Spanish Block Wall Tile
Clay Ventilation Block
Polystyrene Foam Block
Prices of 9 Inches Block in Nigeria
Prices of 9 inches block in Nigeria will cost between 280 and 350 Naira as the prices of sand, petrol, cement, and wood have risen too. Below is a short list of the prices of 9 inches block in Nigeria:
9 INCHES STONE DUST BLOCK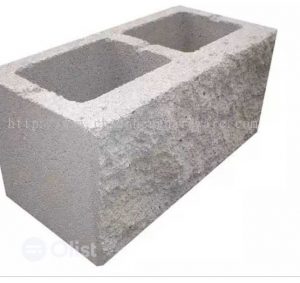 The building block made of stone dust is usually hard, lasting, durable, and reliable. It present cost in Nigeria is between 350 and 400 naira.
9 INCHES ORDINARY BLOCK
This type of building block is made of sand and cement alone, and it is commonly used by building contractors and bricklayers. It costs between 300 and 350 in Nigeria.
How Building Blocks are Made?
The concrete commonly used to make concrete blocks is a mixture of powdered Portland cement, water, sand, and gravel. This produces a light gray block with a fine surface texture and a high compressive strength.
The Manufacturing Process of Making Blocks
1. The sand and gravel are stored outside in piles and are transferred into storage bins in the plant by a conveyor belt as they are needed. The portland cement is stored outside in large vertical silos to protect it from moisture.
2. As a production run starts, the required amounts of sand, gravel, and cement are transferred by gravity or by mechanical means to a weigh batcher which measures the proper amounts of each material.
3. The dry materials then flow into a stationary mixer where they are blended together for several minutes. There are two types of mixers commonly used. One type, called a planetary or pan mixer, resembles a shallow pan with a lid. Mixing blades are attached to a vertical rotating shaft inside the mixer. The other type is called a horizontal drum mixer. It resembles a coffee can turned on its side and has mixing blades attached to a horizontal rotating shaft inside the mixer.
4. After the dry materials are blended, a small amount of water is added to the mixer. If the plant is located in a climate subject to temperature extremes, the water may first pass through a heater or chiller to regulate its temperature. Admixture chemicals and coloring pigments may also be added at this time. The concrete is then mixed for six to eight minutes.
---
Copyright:
Contents on this website may not be republished, reproduced, redistributed either in whole or in part without due permission or acknowledgement. All contents are protected by DMCA.
---
If you own this content & believe your copyright was violated or infringed, make sure you contact us via This Means to file a complaint & actions will be taken immediately.
---