Do you have a social media account such as Facebook, WhatsApp, Twitter, Instagram,  blog or YouTube channel?  If you do!  it is high time you become VTUKing affiliate and make money online. In this article, we explain how it works and how to get started.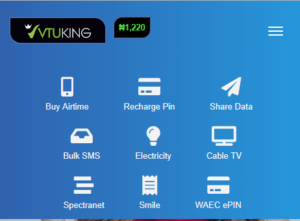 What is VTUKing 
VTUKing is an  integrated payment solutions company, driven by innovative technology and systems to provide a wide range of value-added services to customers.
With leading edge technology, brilliant customer support, well-equipped service team and world class VAS solutions, they are perfectly suited for the market requirements and needs.
They studiously build solutions that allow you to make payment for diverse VTU services seamlessly.
How to make money on VTUKing 
There are difference way you can earn money on VTUKing but in this article we will only discuss making money by becoming an affiliate  on VTUKing.
When it comes to making money online, affiliate marketing is a skill-based approach, that could be learned by anyone. It is one of those segments of online world, that doesn't require any degree or formal education.
What is  Affiliate Marketing 
Affiliate marketing is the process by which an affiliate earns a commission for marketing another person's or company's products. The affiliate simply searches for a product they enjoy, then promotes that product and earns a piece of the profit from each sale they make. The sales are tracked via affiliate links from one website to another. Affiliate marketing is a popular tactic to drive sales and generate significant online revenue. Extremely beneficial to both brands and affiliate marketers.
How to Become  VTUKing Affiliate and Make Money?
It is very simple to get started. All you need to do is to follow the step and believe me, it works and real.
Visit the official website of VTUKing and register. Click Here
After Registration, you have to fund your wallet with minimum of ₦1000. The money belong to you and you can withdraw it anytime.
You can also purchase data and resell: See how to do data reselling business on VTUKing
5 Easy Steps to Refer and Get paid
Sign in to get and share your referral link.
Your referrals sign up to VTUking.
Referrals upgrades their account.
Get your referral commission
Involve more friends to Increase your earnings.
The more referrals you send our way, the more money you could make. Refer your friends and get paid, it's that easy!
If you love to earn money online, show your friends how easy it is and you'll both benefit. Get paid to refer friends, you'll earn commission on their account upgrade fee.
Spreading the word is simple. You'll get your own unique referral link which you can share via email or social media, simply tell your friends how easy it is to earn and how much you enjoy making money online.
Benefit of Joining the Referral Program
You will increase your earnings quickly, easily and safely by using our simple, user-friendly interface with many options to refer friends.
You can refer as many people as you like, and you will earn N100 for every person that registers with your link…
And N900 whenever ANY of your referral Upgrades.
Takes 30 seconds to sign up & start earning today.
Now that you have learnt how to become VTU affiliate, If you need any assistance on how to get started drop your comment in our email box below, we would be delighted to connect you with one of our specialist.