Eating fried potatoes doubles risk of death, study says;  New study has shown that individuals eating fried potatoes regularly or precisely about  two or more times a week stand the risk of early death.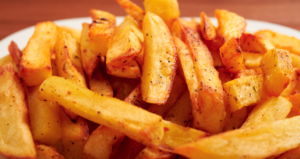 How Eating Fried Potatoes Can Lead To Early Death
It's generally accepted that eating starchy food products dipped in a vat of high-temperature oil doesn't inspire quality heart health, but a study finds scientific evidence connecting the consumption of fried potatoes and a higher risk of death.
While the research is against such practice, it however does not link boiled or otherwise any prepared form of potatoes to the early death risk.
The study which was published in the American Journal of Clinical Nutrition, "tracked 4,440 people aged 45 to 79 over a period of eight years to study osteoarthritis."
The researchers momentarily set aside the main issue of osteoarthritis and look at participants' consumption of potatoes.
According to CNN Health Tips, 'the researchers divided study participants into subgroups based on how frequently they ate potatoes each week. Over the eight years, a total of 236 of the participants died.
The study which was led by Dr. Nicola Veronese, lead author of the study and a scientist at the National Research Council in Padova, Italy, also revealed that age or sex of participants did not influence the result, but the data showed men were more likely than women and younger participants were more likely than older participants to enjoy the fried food.
Veronese and his team found that those who ate fried potatoes two to three times each week doubled their chance of dying early compared to those who ate no fried potatoes. French fries, potato chips, hash browns and any other preparation requiring a fryer are all included under the umbrella of "fried potatoes" after analyzing the data for each group.