Spy Police Ranks and Salary Structure (Supernumerary Police)-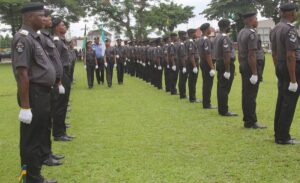 The Spy Police is a special department in the Nigerian Police Force. It is also called the Supernumerary Police officers in Nigeria. This branch of police  was established under Section 46, of the Police Act CAP 359 of 1968 as amended under Section 418, of the Police Act CAP 359 of laws of the Federal Republic of Nigeria 1990.
Under this act, any person (including any government department) that desires to avail himself/herself of the services of one or m ore police officers for the protection of property owned or controlled by him/her may apply to the Inspector-General stating the nature and situation of the property in question and giving such other participation as the Inspector-General may require.
SPY Police officers, understand the corporate culture that is obtainable in their primary environment.
Most of them, having worked in such organizations before undergoing the necessary training at the Police Training School, stand better chances to protect their environment.
On the appointment of supernumerary Police Officers to protect properties, the party that desires such services is expected to apply through the Inspector General after the request, with the approval of the President, will be granted.
Every officer so appointed shall be employed exclusively on duties connected with the protection of those properties. The officers shall have the powers, privileges and immunities of a police officer within the area he is appointed.
Nigerian Spy Police Ranks and Salary Structure is attractive. The salary structure by ranks start from₦70,000 monthly and more.  Spy Police officials appreciate most privileges works of the customary police.
They are not limited on travel, as they can go out effectively; Since the interest for Spy Police officials is high, you can undoubtedly find a new line of work in top firms and companies.
This class of police officers procure a ton of respect; Another beneficial thing about joining spy police is that you won't be harassed by any security staff or Police Officers.
Roles of Spy Police Officers
Let's look at the work and roles of Spy Police Officers, before taking a gander at how much they earn as salary. As precisely stated by section 18 of the police constitution which specifies that the duties of Spy Police, the roles of spy police officers in Nigeria include:
For employment on administrative duties on police premises (which is stated at section 19 of the police act)
To protect property (Company Spy)
For attachment as orderlies
To compliment the services of regular police officers when needed by MDAs/Organisations/Multi-National Companies/Banks
Below is the overview of the Nigerian Spy Police Ranks and Salary Structure;
Spy Police Salary Structure:
How Much Spy Officers Earn in Nigeria?
The salary of SPY officials relies upon the arrangement between the organization and the person (I.e. the spy officer).
Contingent upon the rank, a least un-position which is Corporal earns ₦70,000 at months end. Definitely, making up as a Spy Police is preferable and individuals who join can validate the way that it is a good position.
Typically, the government or Nigerian police doesn't pay salary to spy police officers. Looking at what the police act states, 'a supernumerary police officer shall have no claim or ex-service benefits on the police reward fund, pension, salary, gratuity or annual allowance by virtue of his employment.'
How then are Spy Police Officers paid? They get receive their salary on the off chance that they are working for a private firm or public firm requiring their services. This is normally haggled by the government agent official and the firm being referred to.
Spy Officers of high position, for example, Assistant Superintendent of Police, CSP, and so forth, have a possibility of finding lucrative positions as well.
However, the Nigerian Police bear no financial imperative nor the Federal Government for the installment of pay rates of Spy Police officers.
Ranks of Spy Police in Nigeria
For the most part, every supernumerary cop will on enlistment and appointment be enrolled to serve from month to month, and as need be, a supernumerary cop may whenever, leave his arrangement by giving one month's notification for that benefit to the unrivaled official responsible for the police territory where he is delegated to work in.
Most importantly, supernumerary cops are dependent upon a similar control as different individuals from the police force. They also operate similar ranks, except for the post of the IGP.
Requirements For Spy Police Force Recruitment 
Recruitment for new spy officers for 2020 is now on with the quota almost filled up. These are the important requirements which are very necessary when applying for the job as a SPY police officer:
1. Nationality:
The mandatory one is that all applicants must be a resident of Nigeria and should have a document to prove that you are a citizen of this country.
2. Age:
All Candidates should on application be of 18 years or more.
3. Education and Certificate:
All seeking to be in the Nigerian Spy Police Force should have an educational qualification as you are given ranks according to your educational qualification. Also having an O' level certificate which much incorporates at least 5 credit in Mathematics and English obtained in the WASSCE/GCE/NECO/NABTEB examinations.
4. Character:
Must have a decent character and should not have been associated with any crimes before.
5. Height and Stature:
All applicants for enrollment should be under 1.67 meters in tallness for men and 1.64 meters for ladies.
6. Tattoo:
 All applicants should not have tattoos on their skin
Other following prerequisites are;
Applicant must hold a B.Sc/HND/WASSCE certificate from a recognized institution
Provide reason why he or she wants the job of a Spy police
Must realize how to drive (not compulsory)
Forces important confirmation in the Security business
They should have the capacity to work under tension
Great direction of English and fluent in application.
They should live in Lagos or Nigeria if possible.
Moreover, all Candidate must go for full clinical assessment at the training school before being processed for acceptance as a Spy police officer at the training school.
Nigeria Police Spy Plate Number
The Spy Police plate number is a unique vehicle plate number.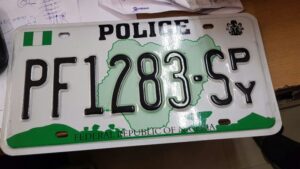 Application for Nigerian Spy Police:
Below is the step by step instructions and guidelines on how to apply for a post in the Nigerian Spy Police Force Recruitment process:
Step 1: Meet the necessary requirements 
First, you must meet the necessary requirements we enlisted above in the write up.
Step 2: Submit important documents
Secondly, you have to come to the PTS with the following documents which shall be verified at the documentation department.
A company letter headed paper (two copies)
Photocopy of the CAC document of the company
About 10 passport photographs for documentation
Your academic credentials including your NYSC certificate
The required sum for registration
A means of identification which may include National ID card, International Passport
Step 3: Collect your training kit
After payment has been made and verification done, you proceed to collect your training kit. The training kit include a white police polo, short knickers and one pair of white tennis shoes with white stockings.
Please note that application isn't free as it attracts a fee for the course and training. What you should bear in mind is that as you grow in the cause of the training, there are other additional fees attached. So, make sure you are financially bouyant before you apply.
Why Joining Nigeria's SPY Police
The are many benefits accrued to those who join the supernumerary police in the country and they are:
You enjoy most immunity and priveledges of the regular police
You can travel out easily
Since the demand is high, you can easily get a job in top companies
You won't be harrased by SARS or Police Officers (depends on how you carry yourself)
You earn respect
Nigeria SPY police ID card…….
We Believe This Article Was Helpful, Don't Hesitate To Share This Information With Your Friends On
Facebook, Twitter, Whatsapp and Google plus.
---
Disclaimer:
The contents on this site is provided as an information guide only. They are intended to enhance public access to information about Education and other Endeavors. While every effort is made in preparing good information, no responsibility is accepted by or on behalf of this site for any errors, omissions or misleading statements. Although every effort is made to ensure the reliability of this site.
---
---
Copyright:
Contents on this website may not be republished, reproduced, redistributed either in whole or in part without due permission or acknowledgement. All contents are protected by DMCA.
---
The content on this site is posted with good intentions & information purposes. If you own this content & believe your copyright was violated or infringed, make sure you contact us via This Means to file a complaint & actions will be taken immediately.
---